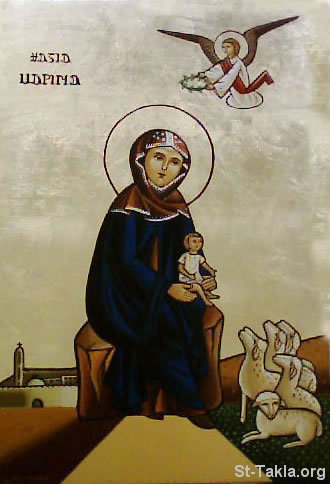 A woman must not wear men's clothing, nor a man wear women's clothing, for the LORD your God detests anyone who does this. - Deuteronomy 22:5
This has come up in the coptic church albeit very rarely. Like homosexuality, the church does not really address the transgender issue, because it is not a "coptic problem", along with such things as abortion, domestic abuse, and AIDS. So what is the church's view of being trans? In bible studies and youth groups, I've heard coptic clergy say that trying to imitate the gender opposite of what you are is sinful because it is not how God made you. Let's take the clergy's opinion out of the equation, the bible makes it pretty clear, as stated in the quote from Deuteronomy, above.
So how does the church seem to reconcile this with all the trans saints that the church has canonized and recognized over the years? Wait, what? Saints who are trans?
Actually, yes, the Coptic Church has in its Cloud of Witnesses, a bunch of saints who have lived their lives as a gender different than what they were, biologically. There are even Coptic Churches named after these saints. Most of them are women, who lived lives as men, for survival, or for the mere fact they wanted to be monks themselves. Some of them have amazing stories of courage as they attempted such a lifestyle in order to serve God in the best way they saw fit, and moreover, many of their genders were not discovered until after their death.
An example of such a saint is St. Marina:
On the fifteenth day of the blessed month of Mesra, the church celebrates the commemoration of the departure of the nun St. Marina, who was the daughter of a very rich Christian man. Her name was Mariam, and her mother died when she was little girl. Her father raised her, and brought her up well. When he wanted to give her in marriage, and to go himself and become a monk in one of the monasteries, she told him, "O my father, why would you save your own soul, and destroy mine?" He answered saying," what shall I do with you? You are a woman." She told him, " I will take off my woman's dress and will put on the garb of a man."

She rose up straightway, shaved off the hair on her head and put on the garb of a man. When her father saw her strong determination and persistent desire, he gave all his possessions to the poor, keeping only a very littler for himself, and he called her Marina instead of Mariam (Mary).

From the Coptic Synaxarion, 15 Mesra. Read more: https://www.copticchurch.net/topics/synexarion/marina.html
I don't think anyone could argue the direct conflict we have with the words of the Bible, however, could this be an example, where context and spirit was more important than the letter of the law? These women were courageous, and faced severe punishment for their choices of living life as a man, yet they persevered and were greatly rewarded by God, to the point that the Church herself has recognized them as canonized saints. Makes ya think....
Some others of these saints include:
St. Anna/Euphemianos of Constantinople
St. Eugenia/Eugenios of Alexandria
St. Theodora/Theodorus of Alexandria
St. Thekla of Iconium